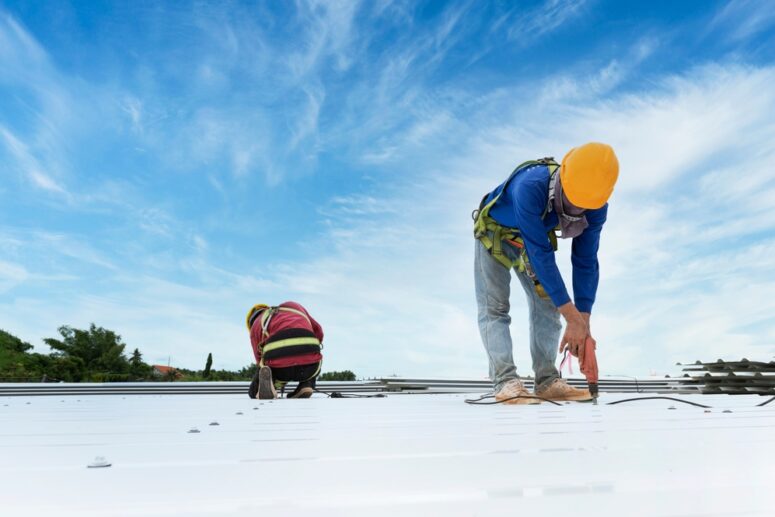 Best service
Roofing Commercial
At BradCo Company, we understand the importance of a reliable and high-performing roof for your commercial property. With years of industry experience and a dedicated team of roofing experts, we take pride in delivering exceptional commercial roofing services tailored to meet the unique needs of businesses like yours. Whether you require roof installation, repair, or maintenance, we have the expertise and resources to ensure that your commercial roof is built to last. Here's why you should choose BradCo Company for all your commercial roofing needs:
Unmatched Expertise: Our team consists of highly skilled professionals who possess extensive knowledge and expertise in commercial roofing. With years of experience in the industry, we understand the complexities and challenges associated with commercial roofing projects. From large office buildings to retail spaces and industrial facilities, we have the know-how to handle any commercial roofing task with precision and efficiency.
Premium Quality Materials: We believe that a durable and reliable roof begins with high-quality materials. That's why we source our materials from reputable manufacturers known for their excellence in the industry. By utilizing premium materials, we ensure that your commercial roof is equipped to withstand the test of time, protecting your business and investments for years to come.
Comprehensive Solutions: At BradCo Company, we offer a comprehensive range of commercial roofing solutions tailored to meet the specific needs of your business. Whether you require a new roof installation, roof replacement, repairs, or regular maintenance, we have you covered. Our team conducts thorough assessments to identify any existing issues or potential vulnerabilities in your roof, allowing us to provide targeted solutions that address your unique requirements. With our expertise, we strive to minimize disruption to your operations while delivering efficient and cost-effective solutions that ensure the longevity and functionality of your commercial roof.
Don't settle for anything less than excellence when it comes to your commercial roofing needs. Choose BradCo Company for unmatched expertise, premium quality materials, and comprehensive solutions that will safeguard your business and enhance its longevity. Contact us today for a consultation and discover how we can elevate your commercial roofing experience. Trust in our proven track record and let us be your trusted partner in ensuring the success and protection of your commercial property.
Contact us now to schedule your consultation. Invest in the future of your business with BradCo Company, where exceptional commercial roofing solutions await you.